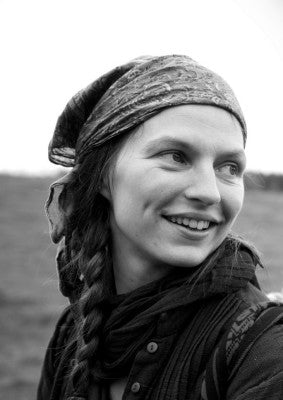 Rima Staines
"Rima Staines – the best illustrator of the realm of faërie, oak-smoked, sad-strung but vital, that I have ever seen." - Jay Griffiths
NOTE: As of April 2023, all of Rima's work is now available in her new shop which you can find here!
Rima Staines is an artist, mother, writer, musician, maker and traveller. She has paintings in publications and private collections worldwide, and was recently nominated in the Best Artist Category in the World Fantasy Awards.

Rima writes:
I have been an artist from the very beginning, and this work - creating imagery drawn from the unseen storied otherworlds that lie just alongside this one - is intrinsic to who I am and why I'm here. Perhaps you encountered my work through the blog I wrote for some years between 2008 and 2015, or by coming across my wayside art stall as I have travelled the towns and villages, fairs and festivals of the UK. Other people being part of my journey, following my travels, buying my artwork, encouraging and supporting me, has made all the difference to how my work has appeared in the world. Though I am fairly shy by nature and protective of unfinished works still skinless in their gestation, I have learned that being an artist is only half of a conversation. I am one half, and you are the other. There is no point in me creating what I do without people to receive it. The magic occurs in the handing-over, and in the response returned.